What are Shower Melts?
I really love shower melts.
They are such a clever way to diffuse your favorite essential oils as you take a shower.
Shower melts are little cakes of bi-carbonate of soda, citric acid, corn starch and essential oils that fizz and melt as they get wet, diffusing the oils throughout your shower enclosure as they do so.
They are a must-have accessory for your essential oils and the best part about them is that you can make them yourself!
---
This post contains affiliate links. If you buy something through one of those links, I will receive a small commission at no extra cost to you. As an Amazon Associate I earn from qualifying purchases.
Thank you for supporting my site!
---
Today I am sharing a basic shower melts recipe that is perfect for beginners. They are decorated with colored Epsom salts, are simple to make, and are an awesome way to share oils with family and friends.
How Do You Use Shower Melts?
I make batches of plain melts and then add the essential oils just before I use them. I pick something different every time.
See my blog post about The Best Essential Oil Blends for Shower Melts for some great suggestions.
I drop the oils directly on top of a shower melt, then I place it in the corner of my shower where it will get wet, but is not directly below the water stream. It melts as shower and diffuses the essential oils in to the air. At the end of my shower I wash any residue down the drain.
Shower Melts Make a Great Gift!
Shower melts are a super easy way to share your essential oils with others. Simply make up some Essential Oil Shower Melt Samplers and give them as gifts with some oils you know each person will love.
Simply wrap up some melts in cellophane or a cellophane bag, and include some sample vials or a small bottle of essential oil for the recipient to try. What a super-simple essential oil gift!
Shower Melts Make & Take
Why not use this recipe to do an essential oil make & take workshop? It's a great opportunity to share the benefits of essential oils as well as to demonstrate fun ways for people to use them.
Class talking points could include how aromatherapy works, as well as suggestions for the perfect essential oils and blends to use for morning or evening showers, or when you are feeling congested or unwell.
Consider cutting up your silicone mold into sections of 2-3 holes in which class participants can make their shower melts and then transport them home, ready to pop them out and use when they are dry.
Don't forget you can PRINT my recipe below so each class attendee can have their own copy.
Jump to Recipe
---
How do you remember all of your favorite essential oil blends?
I record mine in this beautiful blend recipe book. Want one?

---
What Ingredients Do You Need to Make Shower Melts
Baking Soda
Baking soda (or bi-carb soda) is one of the two ingredients required to create fizzing and bubbles when your shower water hits your shower melt. If your baking soda is lumpy, sift it as you add it to your mixture.
Citric Acid
Citric acid is the second ingredient required to create the chemical reaction that causes the release of carbon dioxide bubbles when your shower melt gets wet. Using a fine-grain citric acid is best when making shower melts.
Corn Starch
Also known as corn flour in some countries, corn starch is a white, finely milled flour derived from corn. It's used in this recipe to hold all the ingredients together and will help your shower melts harden in the mold. You can also use arrowroot as a substitute if you wish.
Colored Epsom Salts
Don't you just love the cute, little Epsom salt sprinkles on top of these shower melts?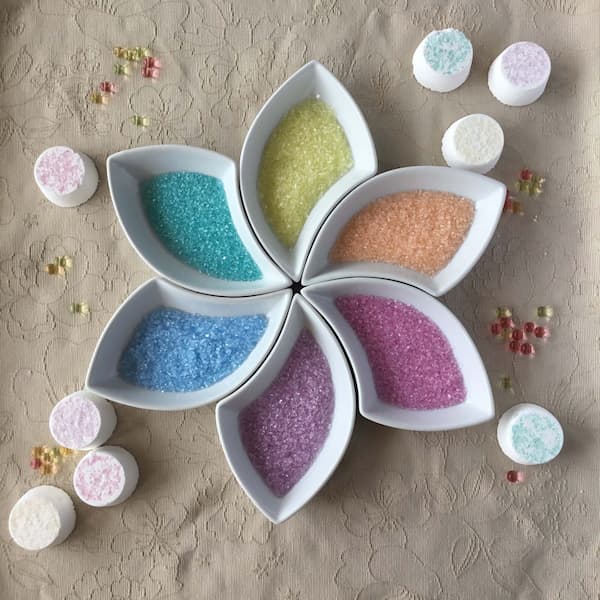 As this is a beginners recipe, I've chosen to decorate my shower melts with colored Epsom salts. These are Epsom salts that have been pre-colored and allowed to dry which helps you control the moisture content of this recipe. Trying to color your entire shower melts mixture with food or soap coloring can be tricky as you run the risk of setting off a chemical reaction and having your shower melts 'melt' prematurely.
You can find full instructions for how to make colored Epsom salts, plus some great ideas for how to use them, right here.
Water
To increase the storage longevity of your shower melts, do not use water from the tap in the recipe. This can lead to mold growth. Instead I recommend distilled, demineralized, or water that has been boiled and then cooled. Alternatively rose water (also available from the supermarket) is a great idea (and will add to the beautiful scent of your shower melts).
Essential Oils
Add your favorite essential oils to your shower melts right before you use them. See this blog post for the best essential oil blends to use with your shower melts.
Mixing Bowl & Spoon
You will require a mixing bowl and spoon to make this recipe. Using your hands for mixing is also a good idea, but I recommend you wear gloves as citric acid can ruin a good manicure.
Small Silicone Cupcake/Muffin Tray
A silicone mold is a must for this recipe so you can easily release your shower melts from your mold once they are dry. A mini muffin or mini cupcake pan is the ideal size for your shower melts.
Want your Basic Shower Melts to look like mine?
I made one batch of shower melts in a mini cupcake pan and decorated them with pink, purple, yellow and aqua colored Epsom salts.
Directions for Using Shower Melts
Add your essential oils to the shower melts right before using. Drop the oils directly on top, then place in the corner of your shower where it will get wet, but is not directly below the water stream. Watch it melt as you shower and wash any residue down the drain when you are finished.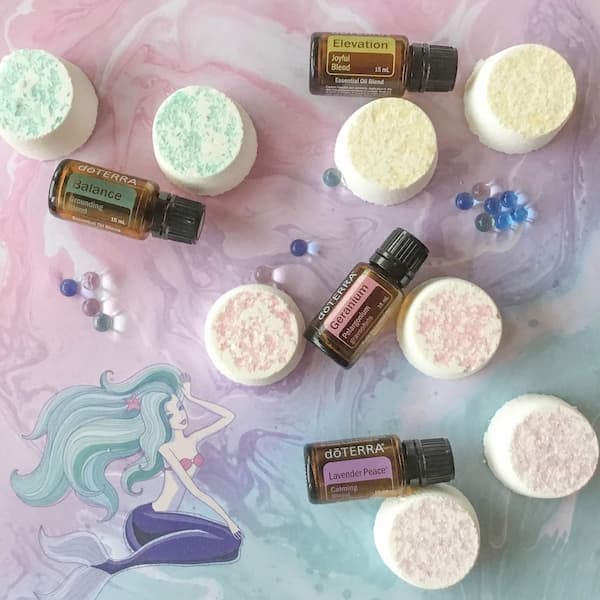 Enjoy!
---
Did you love this Essential Oil Creative idea?  Click on a 'tag' below to see related posts or subscribe for more great ideas about how to use your essential oils.
---
Subscribe!
Sign up below to receive all of my latest essential oil recipes,
crafts and hacks straight to your inbox.