doTERRA's AromaTouch® blend has to be the ultimate 'all-rounder' essential oil blend. It combines a unique group of oils to provide relaxing and comforting effects for the entire body. Its scent is clean, fresh, minty and powdery. After a long day, an AromaTouch massage may be just what you need to calm the senses. But if you're like me, taking yourself off for a massage regularly (or ever) may be more easily said than done.
Enter these beautiful AromaTouch bath bombs. They are the perfect way to add an AromaTouch aromatic experience to your day when you've simply run out of time to get that massage.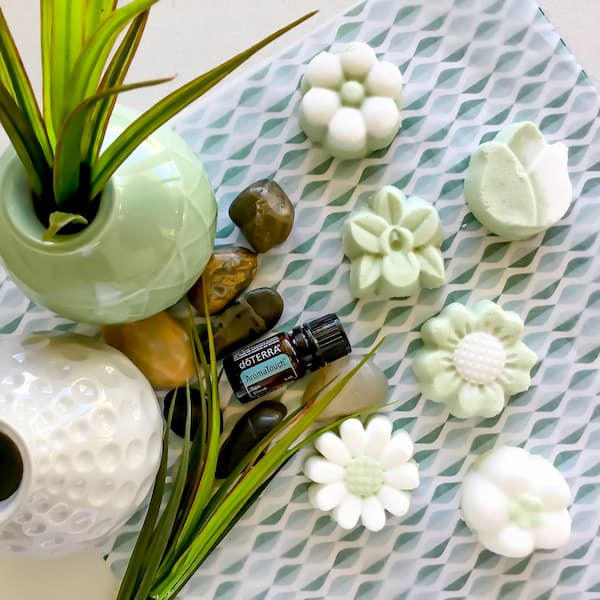 No more niggles!
AromaTouch combines Cypress, Peppermint, Marjoram, Basil, Grapefruit, and Lavender essential oils in a perfect blend that adds many benefits to a nice, long soak in a hot bath.
Cypress essential oil has a fresh, clean aroma that's energizing and refreshing.
Peppermint's clear, crisp scent is invigorating to the senses promoting an uplifted cheery feeling.
Marjoram is valued for its positive, calming scent, while the aroma of Basil essential oil helps promote a sense of focus, calmness and a feeling of centeredness.
Grapefruit is energizing, invigorating and uplifting and Lavender is widely known for its calming and relaxing properties.
Together they blend beautifully to iron out all those niggles in your mind and body.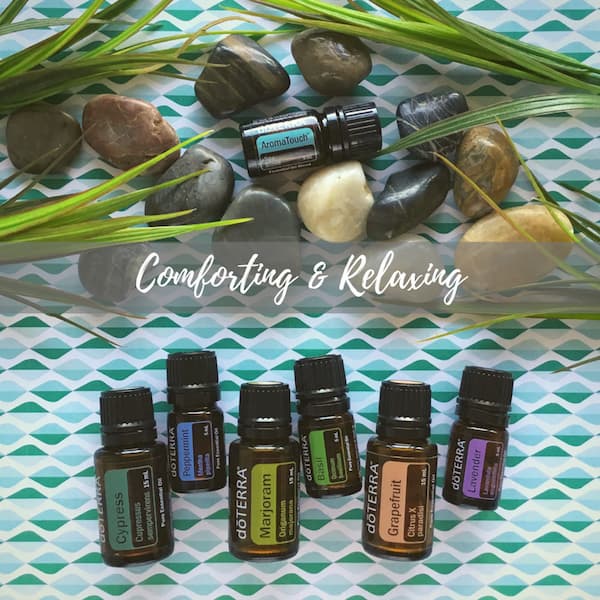 Your skin will thank you!
Many of the essential oils in the AromaTouch® blend also have fantastic benefits for the skin.
Cypress contains monoterpenes, making it beneficial for oily skin conditions.
Basil helps to keep the skin looking clean, clear, and healthy.
Grapefruit improves the appearance of blemishes while Lavender soothes and softens the skin.
Grapefruit is also renowned for its cleansing and purifying properties and is frequently used in skin care for its ability to promote the appearance of clear, healthy-looking skin.
Add this to the softening and hydrating properties found in coconut oil, also an ingredient of the bath bombs, and your skin will be singing with pleasure.
Not a bath fan?
If you don't have the time or the inclination for a bath then these AromaTouch® bath bombs are just as comforting and relaxing in a foot spa or added to a bucket for a foot soak. If you want to enjoy the aromatic experience of AromaTouch® in the shower, then adding a few drops to a shower melt is the way to go.
What you need to make AromaTouch Bath Bombs
140g Bi-carb soda (Baking Soda)
70g Citric Acid
4 tsp (20ml) Liquid/Fractionated Coconut Oil
10-20 Drops AromaTouch Essential Oil Blend
Natural Food Coloring (optional)
Bath Bomb Moulds or Silicone Moulds
Wearing gloves is recommended
Method
Sift the bi-carb soda and citric acid into a bowl and mix well. Add coconut oil, essential oils and coloring (if using). Remember liquid food coloring is moisture so take it easy. Excess moisture will cause your mixture to fizz and puff up and your bath bombs will be ruined.
Use your hands to combine the mixture, rubbing it between your fingers to evenly disperse the wet ingredients. You'll know your mixture is ready when it sticks together/packs down and can keep its shape. It will still look kind of dry, but if you take a handful of the mixture and squeeze it, it should pack easily into a ball. If your mixture is too dry add a few more drops of coconut oil and mix again.
Once you get the correct consistency, begin to fill your moulds, pushing down the mixture into the mould and compacting it into place. Compaction is an important step as it may mean the difference between hard or crumbly bath bombs once they are dry. When using silicone moulds however, be sure not to push down so hard that the mould becomes misshapen.
Set the bath bombs aside to air dry for 24-72 hours. If humidity is high at the time you make your bath bombs (as it was for me), consider drying your bath bombs in the oven on the lowest setting with the fan on for an hour or so. When sufficiently dry, your bath bombs should release from your mould fairly easily, if they are still wet, they will not fall out with ease. Store your bath bombs in a plastic zip-lock bag immediately.
Drop 2-3 bath bombs into a bath, or 1 into a bucket of water or foot spa for a foot soak.
---
CAUTIONS Possible skin sensitivity. Keep out of reach of children. If you are pregnant, nursing, or under a doctor's care, consult your physician. Avoid contact with eyes, inner ears, and sensitive areas. Avoid sunlight or UV rays for up to 12 hours after applying product.
---
Turn it into a Make & Take
Why not use this recipe to do an essential oil make & take workshop? It's a great opportunity to share the benefits of AromaTouch as well as to demonstrate fun ways for people to use their essential oils.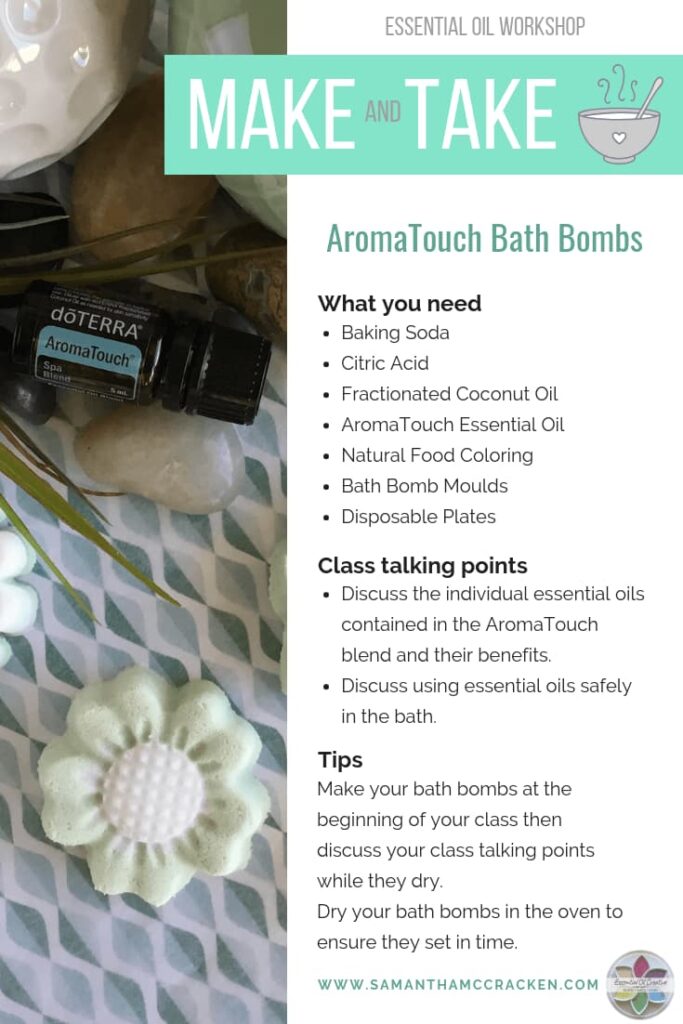 Class talking points could include the benefits of the essential oils that make up the AromaTouch blend, as well as essential oil bath safety (you can find some great info here).
Addition items required would be something for your class participants to transport their bath bombs in such as a disposable plate (or even an egg carton if you are using spherical bath bomb moulds).
Make your AromaTouch bath bombs at the beginning of your class then discuss your talking points while they dry. If it's possible, dry your bath bombs in the oven so they are more robust when it comes to transporting them. Alternatively, if this is not an option, make sure you use a mould that turns out easily onto your transportation method so no further handling is required.
Enjoy!
---
Did you love this Essential Oil Creative idea?  Click on a 'tag' below to see related posts or subscribe for more great ideas about how to use your essential oils.
---
Subscribe!
Sign up below to receive all of my latest essential oil recipes,
crafts and hacks straight to your inbox.