This week is Food Allergy Week and to commemorate it I'm sharing my recipe for the ULTIMATE Essential Oil Bliss Balls.
"ULTIMATE is quite a big claim to make" you say? Well here are five reasons why:
Nut Free
Gluten Free
Dairy Free
Egg Free
Vegan
I rest my case.
But in all seriousness, allergy awareness is important. When you host an event, the last thing you want is to bring harm to anyone who attends. It's also thoughtful to include snacks for those who normally find themselves excluded from the buffet due to allergies and intolerances.
What is Food Allergy Week (FAW)?
Food Allergy Week is an important annual initiative of Allergy & Anaphylaxis Australia that aims to raise awareness about food allergy in Australia, to help reduce the risk of a reaction for those living with food allergy and to help manage potentially life-threatening emergencies when they happen.
Food Allergy Week runs from 13-19 May 2018 and calls on all Australians to Be Aware and Show You Care by getting involved with this year's activities.
You can learn more about Food Allergy Week here.
Now back to these bliss balls.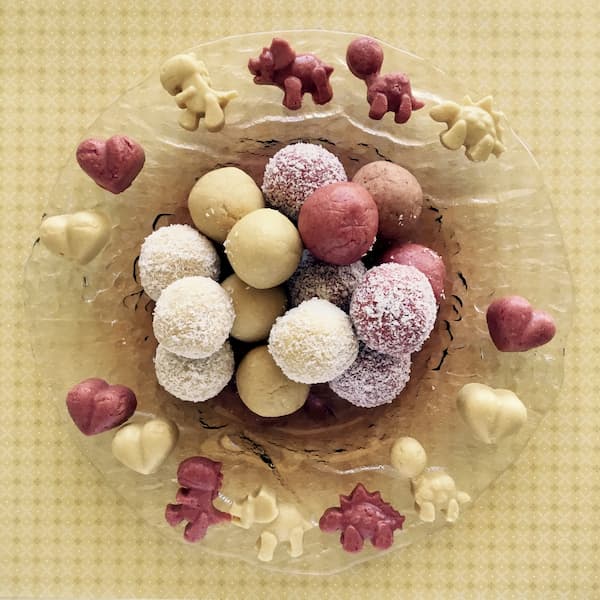 This recipe is so incredibly versatile – I just love it. Great for lunch boxes, afternoon snacks, hosting events – and the flavor combinations are endless! I have created two flavor variations for this recipe: strawberry and bergamot, and a classic, apple and cinnamon. However you can experiment with your favorite freeze dried fruit and essential oil combinations.
The texture of these bliss balls is so smooth and they are not sticky at all so dusting them with coconut is optional (and best done quickly or else it won't stick). Plus you can even push the mixture into silicone moulds and create fun shapes for the kids (check out my dinosaurs!!).
AliExpress.com Product – Cute Dinosaur Chocolate Mold Silicone Molds for Cookies Candy Chocolate Jelly Ice Cube Children Fondant Cake Decoration Tools
Strawberry & Bergamot Bliss Balls
What you need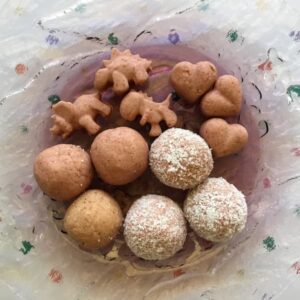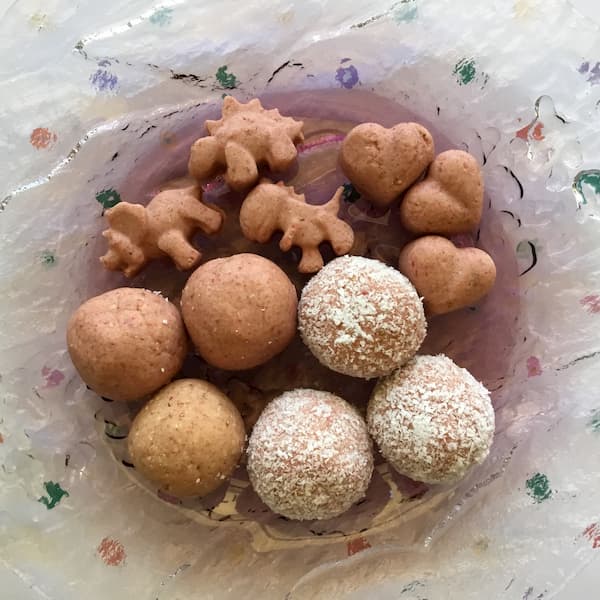 1 Pack Leda Arrowroot Biscuits 205g
20g (2 Packs) Freeze Dried Strawberries
½ Cup Desiccated Coconut
½ Cup (½ Can) Condensed Coconut Milk
3 Drops Bergamot Essential Oil
Extra Coconut for Dusting (optional)
Apple & Cinnamon Bliss Balls
What you need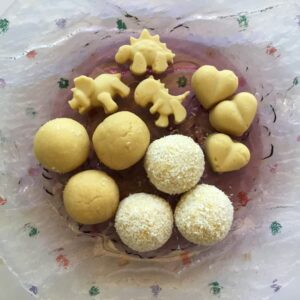 1 Pack Leda Arrowroot Biscuits 205g
20g (2 Packs) Freeze Dried Apples
½ Cup Desiccated Coconut
½ Cup (½ Can) Condensed Coconut Milk
3 Drops Cinnamon Essential Oil
Extra Coconut for Dusting (optional)
Method
Add all dry ingredients into a food processor and process on medium until combined. Add essential oils and process again for 20 seconds to disperse oil evenly throughout mixture. Add condensed coconut milk and process on medium until combined, then on high until the mixture rolls itself into a ball of dough.
Roll into balls and dust with coconut (optional) or press into silicone moulds. Refrigerate until firm.
Best served at room temperature.
---
Cautions Leda Arrowroot Biscuits contain an E-SOY derived vegetable oil. May also contain traces of tree nuts, peanuts, sulphites and sesame.
Check the label on you essential oil bottle to ensure your essential oil is suitable for flavoring use.
---
Turn it into a Make & Take
Why not use this recipe to do an essential oil make & take workshop? It's a great opportunity to share the benefits of essential oils as well as to demonstrate fun ways for people to use them.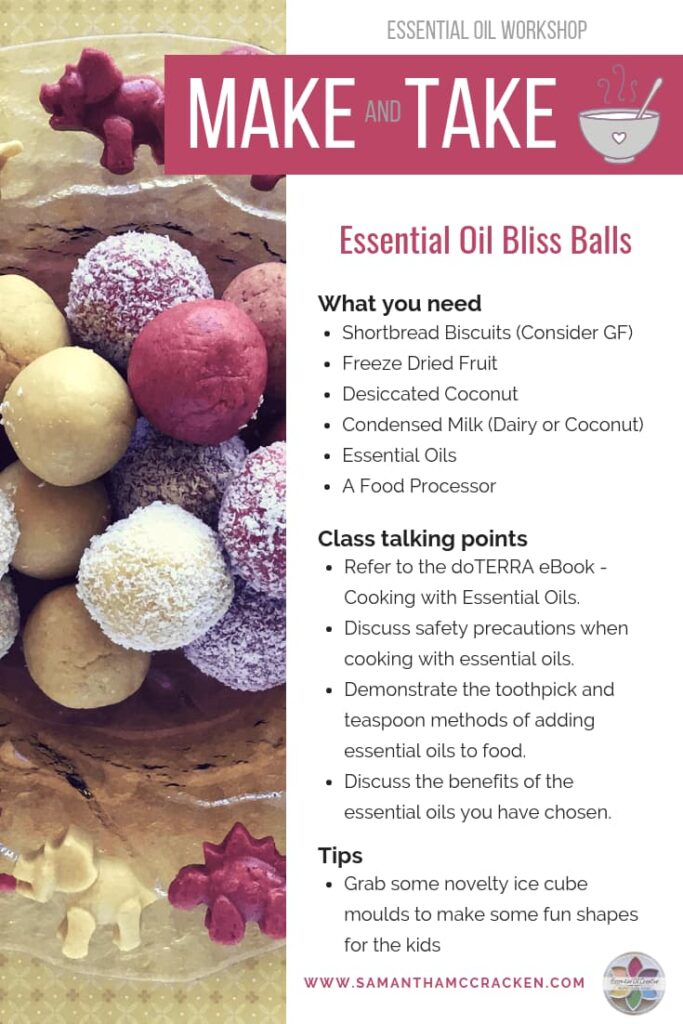 If you don't have easy access to the allergy-friendly ingredients I've used above you can substitute the gluten-free Arrowroot Biscuits with any non-gluten-free Arrowroot or Shortbread Biscuit, and the coconut condensed milk with regular (dairy) condensed milk.
Centre your class around the doTERRA eBook Cooking with Essential Oils. Class talking points include the various chapters in the eBook as well as the benefits of the essential oils you have chosen to use. Take the opportunity to demonstrate to your class the toothpick and teaspoon methods of adding essential oils to food and ensure you discuss safety precautions when cooking with essential oils (refer to the eBook for information about this).
If you have some fun silicone ice cube moulds consider using these to make some fun shapes for the kids like I did.
Enjoy!
---
---
This post contains affiliate links. If you buy something through one of those links, I will receive a small commission at no extra cost to you. As an Amazon Associate I earn from qualifying purchases.
Thank you for supporting my site!
---
Did you love this Essential Oil Creative idea?  Click on a 'tag' below to see related posts or subscribe for more great ideas about how to use your essential oils.
---
Subscribe!
Sign up below to receive all of my latest essential oil recipes,
crafts and hacks straight to your inbox.