A Simple Christmas Essential Oil DIY
Well it's that time of year again and I am super excited to get started on all of my Christmas essential oil DIY projects! Today I'm making Essential Oil Diffuser Ornaments.
---
This post contains affiliate links. If you buy something through one of those links, I will receive a small commission at no extra cost to you. As an Amazon Associate I earn from qualifying purchases.
Thank you for supporting my site!
---
This one is an old favorite of mine. I normally make a batch every year and keep them on hand as last-minute gifts for teachers, work colleagues, friends and family.
They are super simple to make and you can put the kids to work making them too. If they can use play dough, then they will find making these ornaments a breeze.
Essential Oil Diffuser Ornaments Make & Take
Why not use this recipe to do an essential oil make & take workshop? It's a great opportunity to share the benefits of essential oils as well as to demonstrate fun ways for people to use them.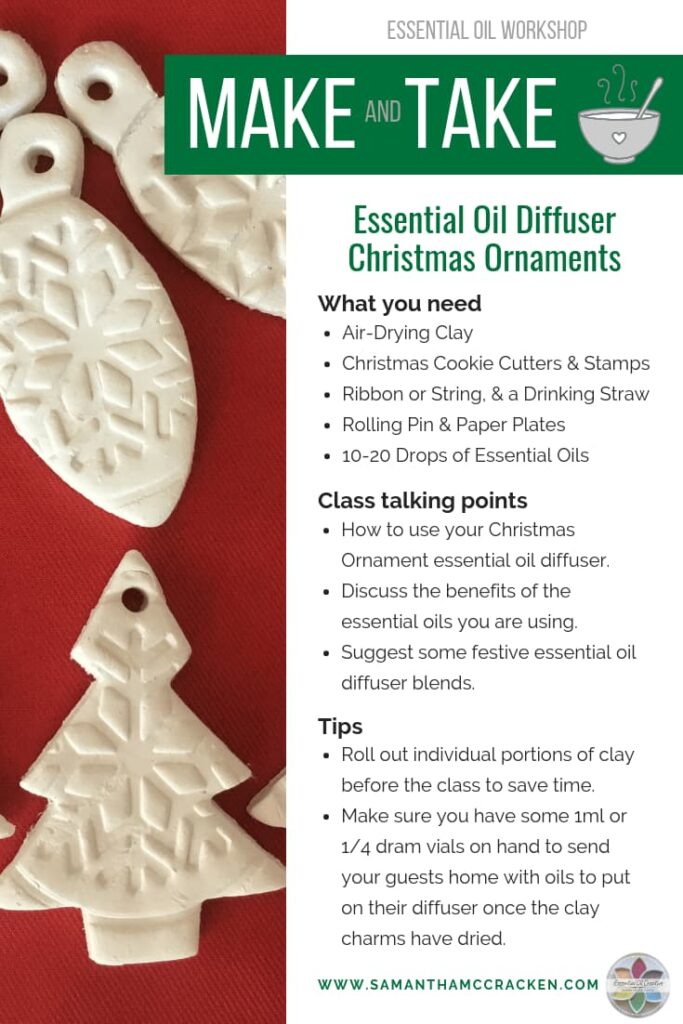 Discuss with your class the benefits of diffusing essential oils (if you need help, refer to the doTERRA eBook Aromatic Use of Essential Oils, which is a good resource no matter which essential oil company you support). Be sure to mention all the different ways they can use their ornament diffusers. Share your favorite festive essential oil blends and give them a list of blends they can take home and try.
Prepare for your class by rolling out individual portions of clay ready to be cut and stamped, and have plenty of 1ml or ¼ dram vials on hand to fill with a sample of essential oil that your class attendees can soak their ornaments in once they are dry to complete their diffuser.  Don't forget to trouble shoot how you guests can transport their charms home while they are still wet.  Making them (and then transporting them) on a disposable plate should do the trick.
---
How do you remember all of your favorite essential oil blends?
I record mine in this beautiful blend recipe book. Want one?

---
How do Essential Oil Diffuser Ornaments Work?
Air hardened clay (i.e. not fired or glazed) is a porous substance and will soak up any liquid it comes in contact with (in this case, essential oils). This makes them perfect essential oil diffusers as they stop the essential oil from immediately evaporating.
You can make your own clay 'ornaments' using air-drying clay and then soak them in your favorite essential oils to enjoy the scent for several days.
Just like any diffuser, you will eventually need to replenish your oils to maintain the scent. Once the scent fades just re-soak your ornaments in more oil and they will be as good as new again. These diffusers work best in small spaces, and the strength of the scent will vary depending on where they are.
Here are some ideas for you to try:
Add you favorite 'Fir' essential oils (i.e. Douglas Fir, White Fir, Siberian Fir) to the ornaments and then use them to decorate your artificial Christmas tree to have it smelling just like the real thing.
Have your child make one to give to their teacher as a Christmas/End of Year Thank You gift.
Add an invigorating, festive scent and decorate your office space. When you pass one you'll receive a fresh burst of scent to help keep you focused throughout the day.
Run out of gift tags? Turn your ornament over and write on the back with a fine felt-tip pen. Tie your ornament to a gift and, voila, you have two presents in one!
Supplies Required to Make Essential Oil Diffuser Ornaments
Air-Hardening Clay
Today I am making my diffuser ornaments out of this air hardening clay. The lead up to Christmas can be a busy and chaotic time, so I have decided to skip making my own salt dough or baking soda dough. However if you have a recipe for either of those that you want to try out then this project is perfect for you. Give it and try and post your pics in the comments below.
Essential Oils
Many essential oil companies sell festive essential oil blends around Christmas time. These blends are a great place to start. You can also check out my Pinterest Christmas Essential Oil Diffuser Blends board for heaps of inspiration.
Cookie Stamps
Your clay ornaments will look more interesting with a bit of texture. I like to use cookie stamps or rubber stamps for a little bit of extra decoration. These Christmas-themed cookie stamps gave my ornaments just the right touch.
Helpful Hint: If you are stamping your ornaments, stamping should be done before cutting.
Cookie Cutters
The easiest way to make your ornaments into beautiful festive shapes is with Christmas-themed cookie cutters. Christmas trees and ornament shapes are ideal, but an assortment of Christmas shapes also works well.
Non-Christmas cookie cutters will also do in a pinch (who am I to tell you how to decorate your tree?). You could also try egg rings, an upside down glass, or just free-hand cutting with a butter knife.
Additional Materials
Rolling Pin – to roll out your clay.
Drinking Straw – to poke a hole in your ornament.
Craft Trimming Scissors – to trim the frayed edges of your clay ornaments
Ribbon, String or Twine – to thread through the hole so you can hang your ornament.
Essential Oil Diffuser Ornament Printable Recipe Card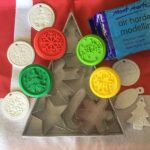 Print Recipe
Essential Oil Diffuser Christmas Tree Ornaments
These beautiful essential oil diffuser Christmas Tree Ornaments will make your fake tree smell like the real thing!
Ingredients
1

Packet

Air-Hardening Clay

Rolling Pin

Christmas-Themed Cookie Stamps

Christmas-Themed Cookie Cutters

A Drinking Straw

Ribbon, String or Twine

10-20

Drops

Essential Oils
Instructions
Prepare a non-porous surface on which to roll out your air-hardening clay.  I like to use glass or plastic cutting boards.

Roll your clay out to about 4mm or 3/16" thick.  Imprint an image on your clay with a rubber or cookie stamp.  If necessary, wet both the clay and the cookie stamp with a finger dipped in water to stop them sticking to each other.  If your stamp leaves any unwanted wrinkles or tears in your clay then, again, a finger dipped in water can be used to smooth the surface of the clay.

Now position your cookie cutter in the desired location over your stamped image and cut out your ornament.

Finally, take your drinking straw and poke a hole at the top of your ornament (for ribbon or string to be threaded through).

Put your ornaments aside to dry (refer to the instructions on your packet of clay to determine a suitable time frame for drying).

Soak your ornaments in 10-20 drops of essential oil in a covered bowl (not plastic) until all of the essential oil has been absorbed (if they are a gift, do this as close to the time of gifting as possible).

Hang them on your Christmas tree or place them in a small organza bag and gift to a teacher, friend or relative.
Notes
Wet clay can be grey in color, but it will whiten as it dries.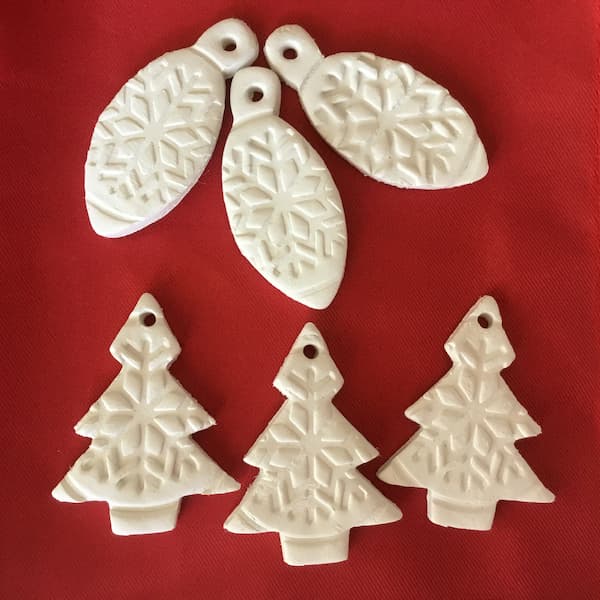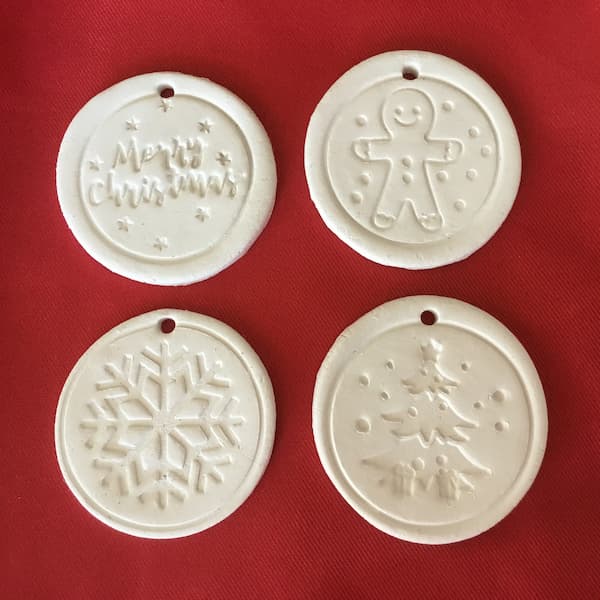 ---
Here are some recommended supplies for this essential oil craft project.
---
Essential Oil Diffuser Ornaments Directions for Use
Once dry, soak your ornaments in 10-20 drops essential oil in a covered bowl (not plastic) until all the essential oil has been absorbed (if they are a gift, do this as close to the time of gifting as possible).
Now you can hang them on your Christmas tree, or place them in a small organza bag and gift to a teacher, friend or relative.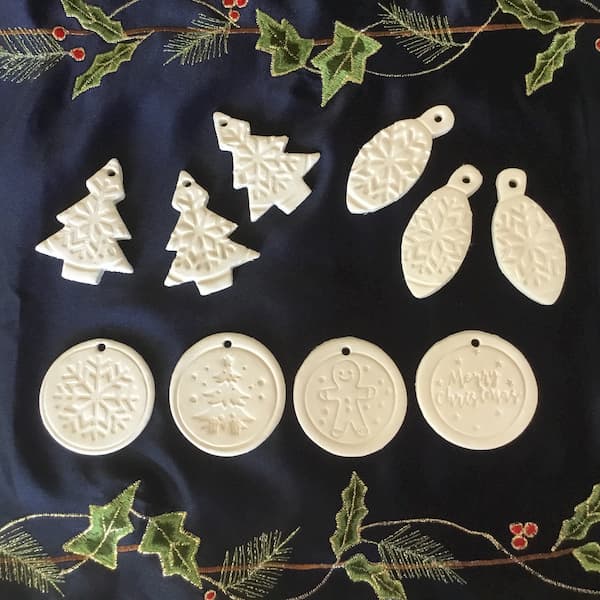 Enjoy!
---
Did you love this Essential Oil Creative idea?  Click on a 'tag' below to see related posts or subscribe for more great ideas about how to use your essential oils.
---
Subscribe!
Sign up below to receive all of my latest essential oil recipes,
crafts and hacks straight to your inbox.