Here is a handy essential oil DIY that is so easy even the kids can do it and all you need is a quick trip to your local discount store for a couple of supplies.
Once completed your Terracotta and Organza Diffuser is the perfect way to add the scent of your favorite essential oils to tiny spaces for fresh bursts of fragrance throughout your day.
Suggested Uses
Add you favorite essential oil blend for 'Focus' then pop one in the top drawer of your office desk. You'll receive a fresh burst of scent every time you open the drawer which can help keep you focused throughout the day.
Add a calming essential oil blend, and then pin the bag to the inside of your child's school bag to help keep them comforted as they go about their day. They will smell the oils each time they retrieve or put away their belongings.
Place one in your underwear drawer or tie one to the rail in your wardrobe. Your favorite scent can then greet you as you get dressed every morning.
How it works
Terracotta is a porous substance and will soak up any liquid it comes in contact with (in this case, essential oils). Organza is a thin, plain weave, sheer fabric that will allow the scent of the essential oils to diffuse into the area.
You can make your own terracotta 'charms' using air-drying clay, soak them in your favorite essential oils, pop them into a cute little organza bag and enjoy the scent for up to ten weeks.
Just like any diffuser, you will eventually need to replenish your oils to maintain the scent. Once the scent fades just re-soak your charms in more oil and they will be as good as new again.
These diffusers work best in small spaces such as an office or school desk drawer, clothes drawer, wardrobe, school bag or handbag.
I've made my charms by rolling out my clay and using cookie cutters and old play-dough tools to cut out small shapes. I've then decorated the shapes by imprinting them with rubber stamps.
Alternatively you can swap the kid's play dough for the terracotta clay and have them make charms using their play-dough tools and equipment.
In a pinch, you can also use a simple plastic drinking straw to punch out tiny round discs of terracotta confetti. They may not be as pretty as making your own charms but they will work just the same.
Here's a pic of the charms and confetti I made: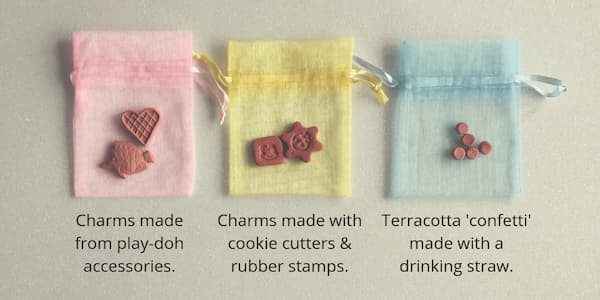 What you need
Air Drying Terracotta Clay
Small Organza Gift Bags (mine are 7.5cm x 10cm or 3″ x 4″)
¼ tsp essential oil
Rolling Pin
Cookie Cutters & Decorative Rubber Stamps
Method
Roll your clay out to about 3mm or 1/8" thick and cut out shapes using cookie cutters. Small shapes are preferable – no more than 2cm or ¾" in length or diameter. Decorate by imprinting your shapes with rubber stamps. Put your terracotta 'charms' aside to dry for at least a week.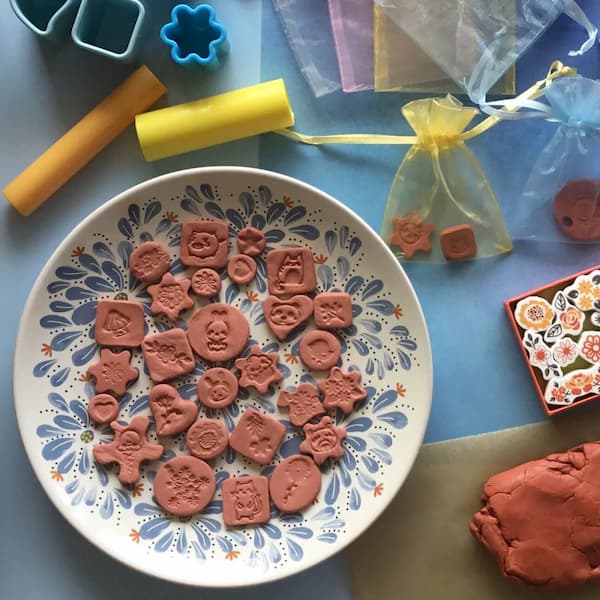 To Use
Soak terracotta charms in 1/4tsp of essential oil in a covered bowl (not plastic) until all the essential oil has been absorbed. Place charms in the organza bag and store it in a small space such as a clothes drawer, wardrobe, school desk drawer, school bag or handbag. Scent should last 5-10 weeks (depending on strength of blend used). Add more essential oils as necessary.
Turn it into a Make & Take
Why not use this recipe to do an essential oil make & take workshop? It's a great opportunity to share the benefits of essential oils as well as to demonstrate fun ways for people to use them.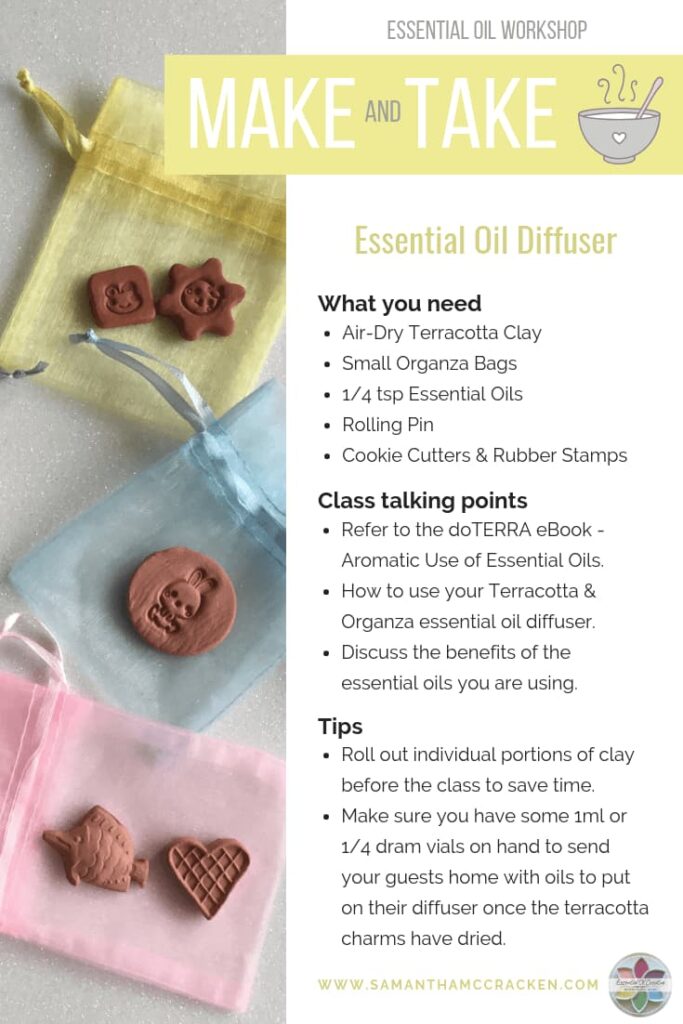 Centre your class around the doTERRA eBook Aromatic Use of Essential Oils. Class talking points include the various chapters in the eBook as well as the benefits of the essential oils you have chosen to use. Make sure to mention all the different places you can use them as listed above and make suggestions for which essential oil blends would be beneficial to use in each location.
Prepare for your class by rolling out individual portions of clay ready to be cut and stamped, and have plenty of 1ml or ¼ dram vials on hand to fill with a sample of essential oil that your class attendees can soak their terracotta charms in once they are dry to complete their diffuser. Don't forget to trouble shoot how you guests can transport their charms home while they are still wet. Making them (and then transporting them) on a disposable plate should do the trick.
Enjoy!
---
Did you love this Essential Oil Creative idea?  Click on a 'tag' below to see related posts or subscribe for more great ideas about how to use your essential oils.
---
Subscribe!
Sign up below to receive all of my latest essential oil recipes,
crafts and hacks straight to your inbox.