Merry Christmas Everyone!
This is my last Christmas blog for the year and I'm finishing it off with a simple, yet delicious essential oil recipe you can easily whip up for any Christmas party.
It's a Christmas edition of essential oil bliss balls called Essential Oil Christmas Fruit Bites
Simply take your favorite bliss ball recipe, but instead of rolling it into balls, press it into a novelty Christmas silicone mold to create these super cute Essential Oil Christmas Fruit Bites.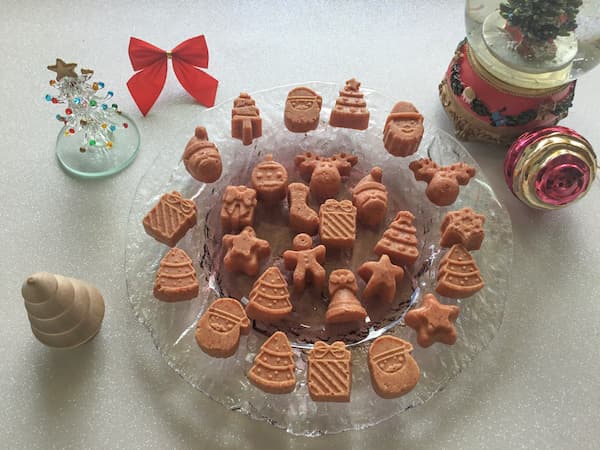 ---
This post contains affiliate links. If you buy something through one of those links, I will receive a small commission at no extra cost to you. As an Amazon Associate I earn from qualifying purchases.
Thank you for supporting my site!
---
What are Bliss Balls?
You may know bliss balls by a different name. They are also known as protein balls or energy bites and are an easy-to-make healthy snack. By adding 2-3 drops of essential oils to bliss balls the flavor combinations are endless.
Choc Peppermint is hugely popular, along with Choc Orange (yum).
Feel free to use your favorite bliss balls recipe to make your Christmas Bites, or I'll happily share one of my favorite bliss ball recipes – the amazing flavor combination of strawberries and Bergamot Essential Oil.
Earlier in the year I shared these yummy essential oil bliss balls. They are so delicious I decided to create a Christmas edition.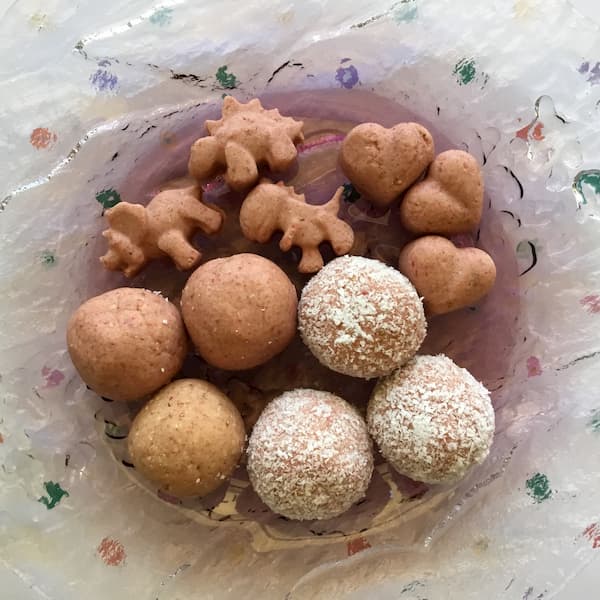 Turn it into a Make & Take
Why not use this recipe to do an essential oil make & take workshop? It's a great opportunity to share the benefits of essential oils as well as to demonstrate fun ways for people to use them.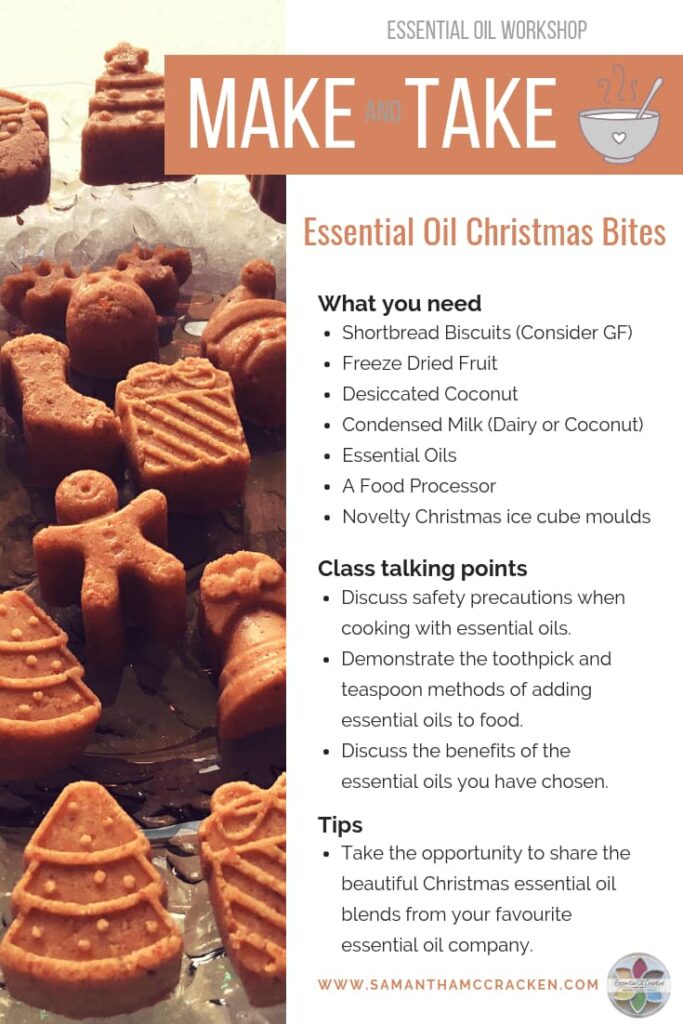 Centre your class around the doTERRA eBook Cooking with Essential Oils. Class talking points include the various chapters in the eBook as well as the benefits of the essential oils you have chosen to use. Take the opportunity to demonstrate to your class the toothpick and teaspoon methods of adding essential oils to food and ensure you discuss safety precautions when cooking with essential oils (refer to the eBook for information about this).
Don't forget it's Christmas time, so take the opportunity to share with your class the beautiful festive essential oil blends of your favorite essential oil company.
Remember to PRINT my recipe below so each class attendee can have their own copy.
Jump to Recipe
Gather Your Supplies
Christmas Novelty Silicone Mold
Close to Christmas there are heaps of festive chocolate molds and ice trays available that are perfect for this project.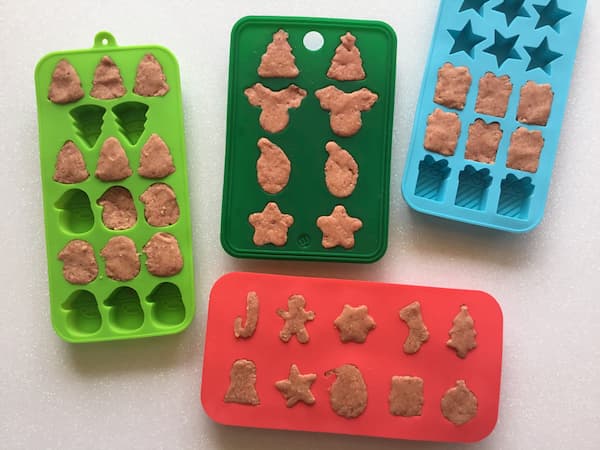 Essential Oils
Check the label on you essential oil bottle to ensure it says something along the lines of "suitable for flavoring use".
Remember not all essential oil brands are suitable to use as flavoring and, of the ones that are, do not assume that every essential oil or blend in their range can be used when cooking or preparing raw foods.
A Great Bliss Balls Recipe
If you already have a great bliss ball recipe in mind, then you can skip to the next section. Otherwise, read on for the ingredients of my Strawberry & Bergamot Christmas Fruit Bites.
Shortbread Cookies
Bliss balls are usually made using a base of nuts (almonds, cashews or macadamias) and dried fruit (like dates or dried apricots). However, since it's Christmas I'm using a classic Scottish butter cookie known as Shortbread which is traditionally eaten at Christmastime. If shortbread is not easily available to you, feel free to substitute it with any plain, sweet cookie or cracker.
Freeze Dried Strawberries
Freeze Dried Strawberries are berries that have been dried in a freezer to remove 99% of the water, yet leave the flavor, color and sweetness perfectly in tact. Freeze drying leaves fruit crispy which makes freeze dried fruit perfect for using in recipes where you don't want a smushy mess.
Desiccated Coconut
Desiccated Coconut is coconut that has been shredded and dried.
Sweetened Condensed Milk
Sweetened Condensed Milk, or Carnation Milk, is available from the supermarket. If you prefer a non-dairy alternative, try sweetened condensed coconut milk.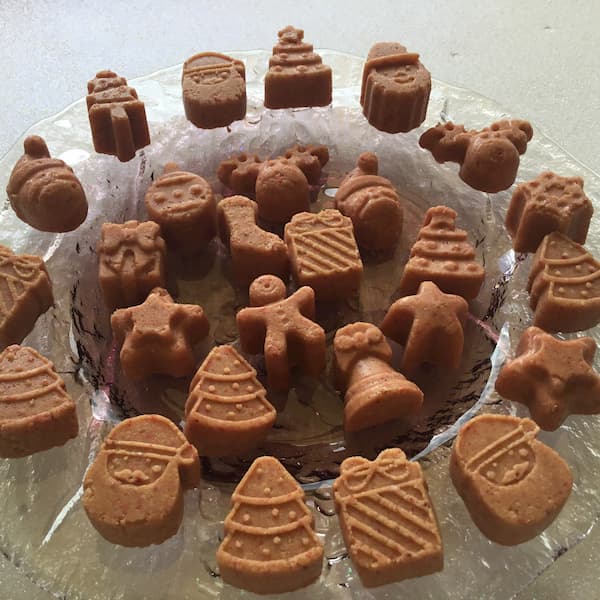 Mix it up with different flavors!
Strawberry & Bergamot not your ideal flavor combination? Don't worry, there are endless possibilities. Here are some I've tried:
Chocolate & Wild Orange – substitute 1/3cup cocoa powder for the freeze dried strawberries, and Wild Orange essential oil for the Bergamot essential oil.
Apple & Cinnamon – substitute freeze dried apple for the freeze dried strawberries, and Cinnamon essential oil for the Bergamot essential oil.
---
How do you remember all of your favorite essential oil blends?
I record mine in this beautiful blend recipe book. Want one?

---
Here's the Recipe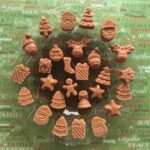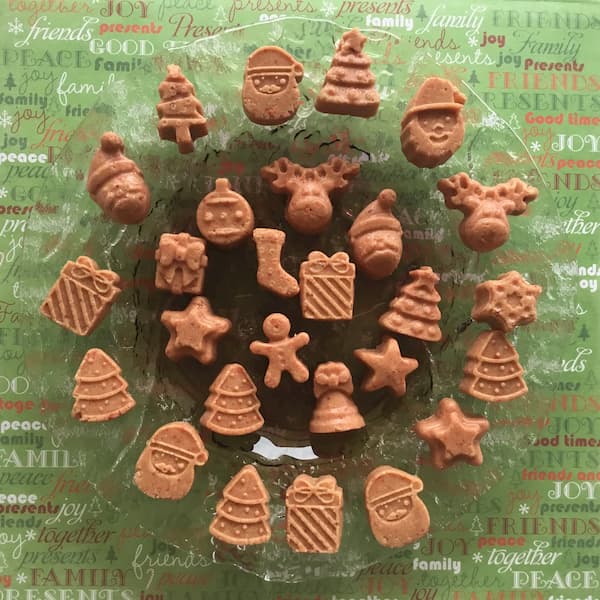 Print Recipe
Essential Oil Christmas Fruit Bites
I've taken my favorite essential oil bliss balls recipe and given it a festive twist! Say hello to these yummy Christmas Bites.
Ingredients
200

g

Shortbread

7oz

20

g

Freeze Dried Strawberries

0.7oz

1/4

Cup

Desiccated Coconut

1/2

Cup

Sweetened Condensed Milk

3

Drops

Bergamot Essential Oil
Instructions
Add all dry ingredients into a food processor and process on medium until combined. Add essential oils and condensed milk and process on medium to combine, then on high until the mixture rolls itself into a ball of dough.

With clean hands (or wearing gloves) press into festive silicone molds.  Freeze until solid.

Remove from freezer and de-mold immediately.  Then keep refrigerated until ready to serve.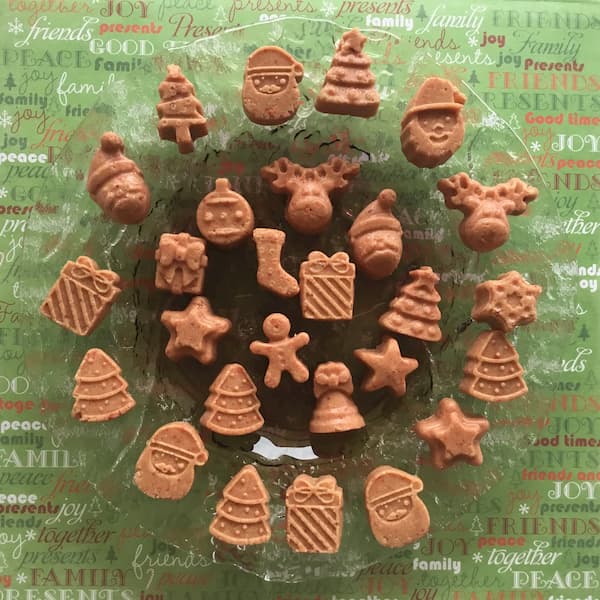 Enjoy!
---
Did you love this Essential Oil Creative idea?  Click on a 'tag' below to see related posts or subscribe for more great ideas about how to use your essential oils.
---
Subscribe!
Sign up below to receive all of my latest essential oil recipes,
crafts and hacks straight to your inbox.