As Christmas approaches every year my Pinterest traffic explodes due to people looking for easy essential oil gift ideas to make for Christmas.
I am one of those people who gives home-made gifts to friends, family, co-workers and teachers at Christmas time and I also enjoy sharing my ideas with others so they can do the same.
---
This post contains affiliate links. If you buy something through one of those links, I will receive a small commission at no extra cost to you. As an Amazon Associate I earn from qualifying purchases.
Thank you for supporting my site!
---
So I was brainstorming gift ideas earlier this week, trying to come up with something I'd never done before and this little gem popped into my head.
I set out to make them the same day because I was super excited and I wanted to know if they would turn out as gorgeous in reality as I imagined them in my head.
The answer – YES!
Oh man, these Christmas-themed 'Gold, Frankincense and Myrrh' Essential Oil Lotion Bars are so shimmery and beautiful!
They are so pretty to look at, so luxe to use, and so going to be one of my favorite gifts to give this year.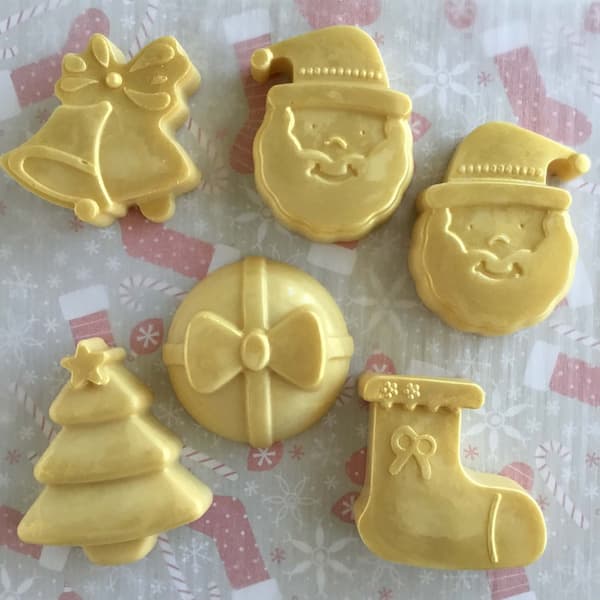 Christmas Lotion Bars Essential Oil Make & Take
Looking for a festive idea to share with your team?  Why not use this Christmas lotion bars recipe to do an essential oil make & take workshop?
It's a great opportunity to share the benefits of essential oils as well as to demonstrate fun ways for people to use them.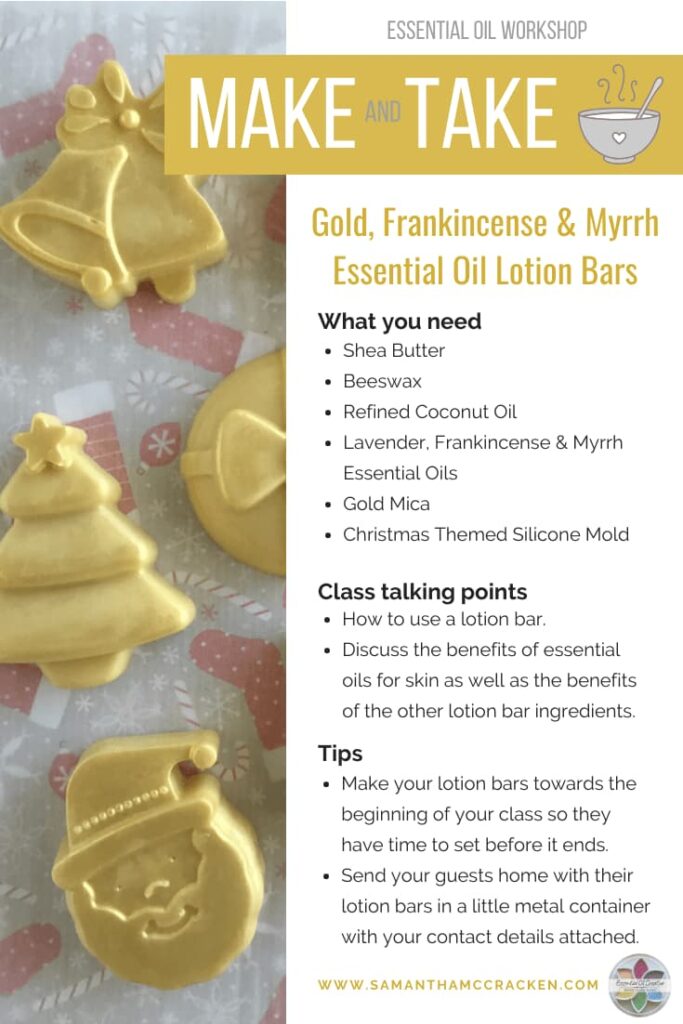 Class talking points include the benefits Lavender, Frankincense and Myrrh essential oils as well as how shea butter and coconut oil can benefit the skin.
You can include this simple lotion bar make & take as part of a Christmas celebration with your team, or as a larger class about essential oils and skincare, or even as part of a Winter Wellness presentation as lotion bars are great for dry winter skin.
Don't forget it's Christmas time, so take the opportunity to share with your class the beautiful festive essential oil blends of your favorite essential oil company.
Make your Christmas lotion bars towards the beginning of your class to allow them time to set (you can pop them in the fridge if necessary) and don't forget to troubleshoot how your guests can transport their lotion bars home.  
A small metal tin is ideal (you can find them in the craft section of any discount store) and here's an extra hint: put a sticker with your contact details on the bottom of the tin so your class attendees can easily get in touch with you again if they wish.
Don't forget you can PRINT my recipe below so each class attendee can have their own copy.
Jump to Recipe
So, what's a lotion bar?
Sometimes called solid moisturizer bars, lotion bars contain all the good things you might find in a hand or body lotion – moisturizing shea butter and skin-hydrating oils – mixed with beeswax to make it solid enough to be shaped into a bar.
Essential oils come together with the other ingredients to create a deeply moisturizing lotion bar. These lotion bars are best for areas that require heavy moisturization such as heels, elbows and dry winter skin.
To use, just hold in your hand until your body heat begins to warm up the bar, and then rub on your skin where needed. I store mine in a cute little metal tin so I can pop it in my handbag or bedside table drawer.
If you haven't picked it up already, these lotion bars are Christmas-themed because I have used gold, Frankincense and Myrrh, which are the gifts that the Three Wise Men brought to Jesus when he was born. In many countries around the world, Christmas is the time to celebrate the birth of Jesus Christ.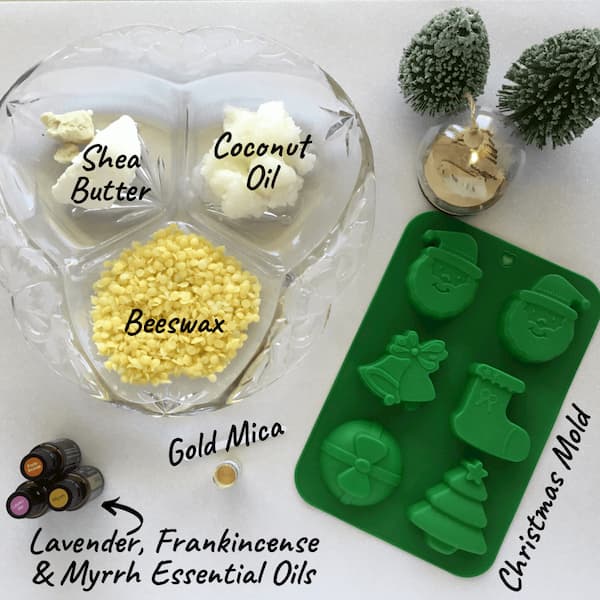 Gather Your Supplies
Shea Butter
Shea Butter is a fat extracted from the nut of the Shea Tree from Africa. It is super hydrating, melts at body temperature and is easily absorbed into the skin. This makes it a perfect ingredient for moisturizing lotion bars.
Refined Coconut Oil
I can hear it now: "Umm which coconut oil do I use?"
The coconut oil used in this recipe is the solid kind, not the fractionated kind. I suggest you choose a refined coconut oil as opposed to a virgin coconut oil as refined coconut oil has a much milder scent.
Beeswax
Shea butter and coconut oil both melt a relatively low temperatures. So, unless you want a greasy, sloppy mess, you're gonna need something to make your lotion bar a little more solid. This is where beeswax steps in. I prefer the pellets because they're easy to work with, but if you have a big block of wax you want to grate up, then go ahead.
I've used yellow beeswax pellets in my recipe because I feel the yellow color contributes to the beautiful shimmery goldenness of my bars. However if white is all you have on hand, use it and let us know in the comments how they turn out.
Essential Oils
I confess that I have chosen Frankincense and Myrrh essential oils due to their connection with the Christmas story. However I really want to emphasise that these two essential oils do have great stand-alone benefits for skin.
Frankincense essential oil supports healthy skin regeneration which makes it great for improving scars, stretch marks and wrinkles. It is highly prized in the cosmetics industry.
Myrrh essential oil is also used in the cosmetics industry to improve fine lines and areas of dry skin.
Lavender essential oil has a myriad of benefits for the skin (soothing, healing and reducing scarring) which is the reason I have included it as an ingredient in my lotion bars.
Gold Mica
Mica is a ground-up mineral know for its beautiful reflective qualities. My lotion bars recipe includes gold mica as a reference to the gold given as a gift to Jesus by the Three Wise Men in the Christmas story.
As well as the teaspoon required for the recipe, I've used a small paintbrush to dust extra mica onto the details of my silicone mold so that it will stick to the surface of my lotion bars for some extra shimmer and shine.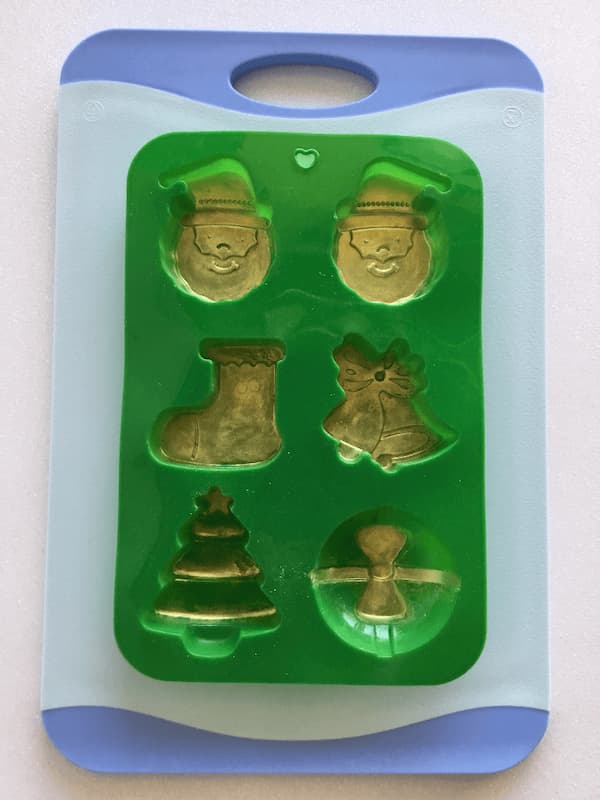 Silicone Mold
My recipe make six 40g lotion bars so you will require a silicone mould with the same capacity. I've chosen a Christmas-themed mold (which, by the way, fills 40g perfectly into each cavity), but you can use a different mold if you wish.
Additional Items Required
Small Paintbrush – to dust extra mica onto the surface of your silicone mold. This step is optional but highly recommended.
Microwave or Double Boiler – To melt the raw ingredients of your lotion bars.
Kitchen Scales – I've used grams in this recipe because the amounts are easier to manage compared with ounces. Most kitchen scales these days are interchangeable between grams and ounces. Check your scale's instruction booklet for how to change you scale to measure in grams and then change it back when finished.
Cutting Board or Oven Tray – Silicone molds can be wobbly and unstable. Set your mold on a board or tray, and then on the kitchen scales to weigh out your mixture. Then once poured you can also easily move your lotion bars to a safe place to set.
Glass Measuring Jug – I have a separate glass measuring jug dedicated to essential oil DIY (soap making, lotion bars, lip balm etc) to avoid any cross-contamination of non-ingestible ingredients with food. I recommend you do the same.
Metal or Bamboo Skewer – Skewers are super handy for stirring and can be easily cleaned or disposed of. Of course you can use a metal spoon for stirring, but as I mentioned with the measuring jug, I recommend you don't use the spoon for food afterwards.
Paper Towel – Make sure you have some paper towel on hand for cleaning up (there may be drips) and for resting your skewers on after stirring. I also recommend placing your soaps onto paper towel when painting them.
Want Yours to look like mine?
I've used raw shea butter, refined coconut oil, yellow beeswax pellets and gold mica along with this silicone mold. Here's my recipe.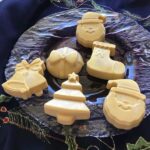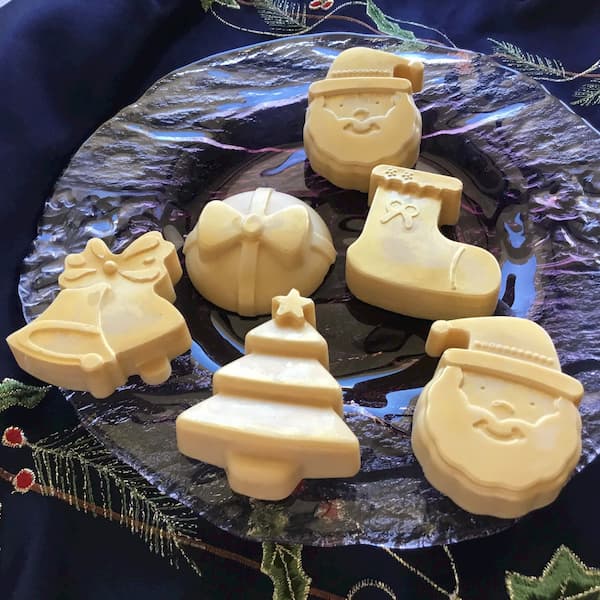 Print Recipe
Gold, Frankincense & Myrrh Essential Oil Lotion Bars
Create these gorgeous lotion bars with a festive twist to give as a magical essential oil Christmas gift.
Equipment
Microwave or Double Boiler

1L (2Pt) Glass Jug

Skewer for Stirring

Cutting Board or Oven Tray

Kitchen Scales

Paintbrush (optional)
Ingredients
75

g

Shea Butter

60

g

Beeswax Pellets

105

g

Refined Coconut Oil

60

drops

Lavender Essential Oil

30

drops

Frankincense Essential Oil

30

drops

Myrrh Essential Oil

1

tsp

Gold Mica

Plus extra for dusting (optional)

1

Christmas-Themed Silicone Mold
Instructions
Optional First Step: Using a small paint brush, brush the insides of your silicone mold with gold mica to bring out any special details.

Add the beeswax, coconut oil and shea butter to a glass jug and set in a small saucepan full of water, or in a microwave.

Melt slowly over low heat or in 1 minute bursts in the microwave.

Once it has melted, set aside to cool for two to three minutes before adding the essential oils and gold mica.

Stir well until all of the mica is evenly combined.

Set your silicone mold on a cutting board or tray and then on top of your kitchen scales. Pour out 40g of mixture into six mold cavities.

Set your lotion bars aside to set. They may be able to be popped out after 1/2 an hour but will take up to 3 hours to fully set. If possible, avoid popping them out of the mold before they are fully set.
Directions for Use
Warm up your lotion bar in your hand and then rub on elbows, heels, blemishes, and any other areas of dry skin.

When not in use, store your lotion bar in a glass jar or metal tin, or wrap it in grease-proof paper, to prevent the oils and butters soaking into surrounding surfaces.
Cleaning Up
As soon as you have finished filling your mold, let your mixture cool then wipe the remainder of the mixture out of your bowl with a paper towel. Do not pour any excess down the sink or put a bowl covered in a large amount of residue in the dishwasher as it may clog your pipes. Once you have wiped your bowl clean, bin the paper towels and put the bowl in the dishwasher for a final clean.
A quiet corner of the garden is also a good idea if you have a large amount left-over.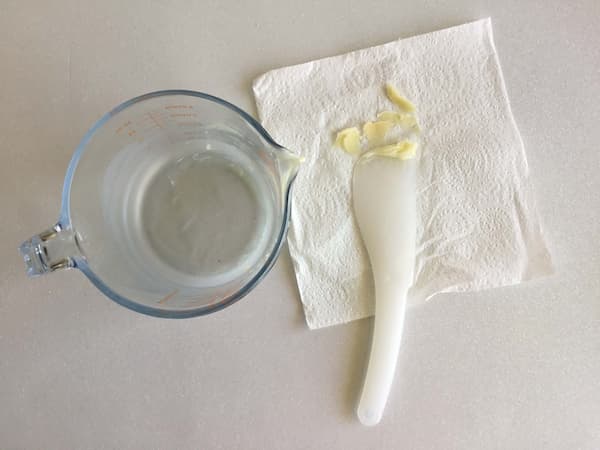 Directions for Use
Warm up your lotion bar in your hand and then rub on elbows, heels, blemishes, and any other areas of dry skin.
When not in use, store your lotion bar in a glass jar or metal tin, or wrap it in grease-proof paper, to prevent the oils and butters soaking into surrounding surfaces.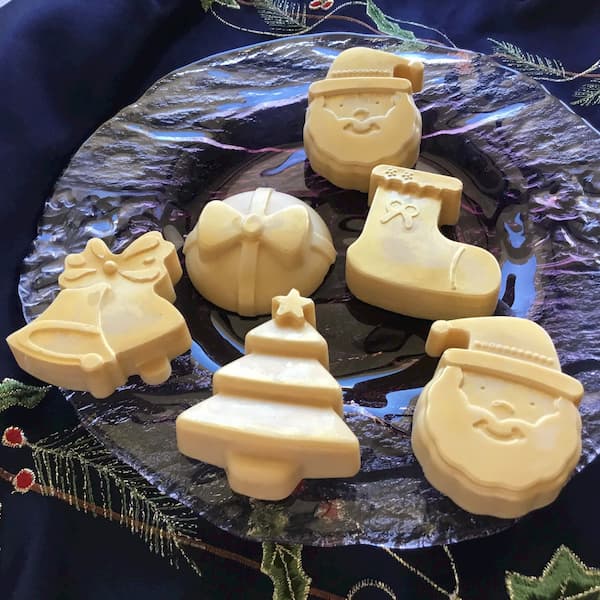 Enjoy!
---
Did you love this Essential Oil Creative idea?  Click on a 'tag' below to see related posts or subscribe for more great ideas about how to use your essential oils.
---
Subscribe!
Sign up below to receive all of my latest essential oil recipes,
crafts and hacks straight to your inbox.